When one of our agents, Colleen Monaghan, let us know about the work her client, Ali, had done to her home, we knew we had to talk to her about the design process.
Ali rents her home on AirBnB and her guests have described her home as well designed, beautiful, and charming… and we agree!
We pulled some before and after photos and gave Ali a call to talk through the importance of paint, making lists, and taking your time to plan out your big projects.
What was the first thing you tackled when you first got into the space?
I painted all of the walls because it's so much easier without furniture. I brought my mattress over so I could sleep there, ya know first night in my first house, but besides that I just painted everything.
I love a freshly painted wall.
Haha, it really needed it!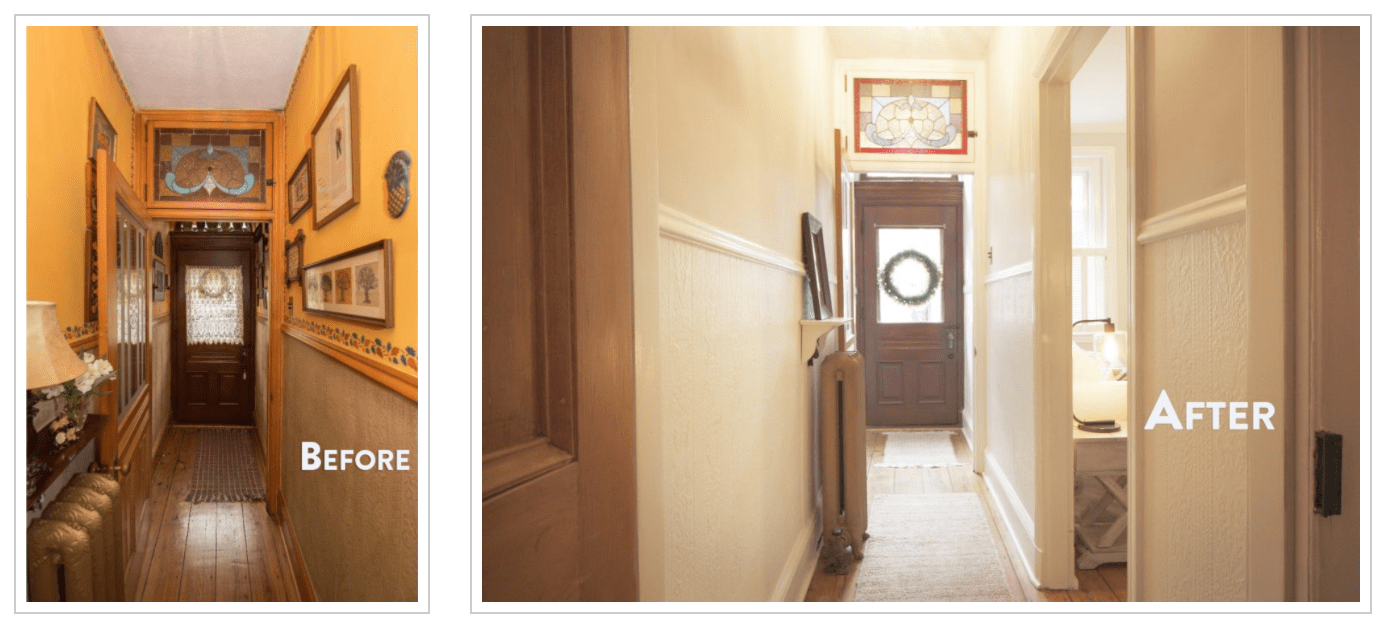 Were there any original elements in the house that you felt like you had to preserve?
Of course, I only really painted the walls and the trim, I'm not even sure how much of the trim was actually original…. I kept all of the doors, fireplaces and floors unpainted since they are so beautiful. I'm also planning to keep the stained glass and small entryway you see as soon as you walk in as well as the windy stairs that scare a lot of people.

Do you have a favorite space in the house right now?
I've been putting a lot of work in the kitchen. I removed a lot of the open shelving they have and put in some updated wooden open shelving. I covered up the old spice rack space that they had, and I widened the hole in the wall so the oven could fit in and I could add in a backsplash.

Looking at the  before and after pictures it seems like even the smallest changes have brightened up the space so much!
It really has! Covering up all of the stencils decluttered the walls and makes the rooms feel more open.
I also love the dining room, my grandparents used to have a farm house that we sold right before I purchased my house. I took a lot of their old furniture and refinished what I could, and brought in a little bit of my modern style with a console table and a metal chandelier.

We were going to ask that! Where have you been getting most of your furniture and decor? Is there a place in Philadelphia that you love?
I've gotten a couple of things from Jinxed. I go to West Elm for some things. I'm very eclectic, half of the things are from my grandparents house and that adds an antique-y feel. And then HomeGoods is obviously great, too.
When you first bought the house did you already have a plan set up?
I kind of improvised. My old roommate is an interior designer – she got a feel for my style, eclectic, bohemian, a little bit of farmhouse… and she was encouraging me to go with a simple white theme with black accents. But, I love color – and there's always dogs in and out of my house and you can't keep anything clean with that. So I found a couple styles online, like the white cabinets and a blue/green bottom cabinets… I based the kitchen on that. And then, I bought the dining room rug and decided to match the dining room and living room colors through that. And from there I've just been adding on as I go.

When you're putting together a room, is there something that you definitely need to have in order for it to feel "complete"?
I feel like it's not completed without a rug… whether it's the focal point or just an accent to tie it together. It can be very simple but it will ground the room. And then of course the wall color is important.

Who is your biggest design inspiration?
I follow a lot of instagram bloggers. They're bohemian, eclectic… everything I like. That's really where I get my most of my ideas from. As for designers though, I'm terrible with names! Some of the people I follow are, @eclectic.leigh, @kismet_house, @ohfarmhouse, @studiomcgee, @serie7co, @deecampling, and @themodestfarmhouse.

Do you have any specific tips for someone who is looking to tackle a project like this?
Make lists, write everything down, and don't try to tackle too much at once.
At first I did tackle the whole house at once, but that was only because I wasn't moving in right away and the walls desperately needed some fresh paint. I did run into some problems with my next kitchen project. I painted the cabinets and walls and that all looked good, but then I underestimated the planning and time it would take to add a backsplash, make and hang up floating shelves and make a custom spice rack… I went to Home Depot one day planning on getting everything I needed and ended up leaving with only two or three things. These projects ended up taking three months to finish. So I wish I'd just been like "OK, I'm just going to add the backsplash, these are the exact measurements, these are the steps I'm going to follow and this is exactly what I need …"

What is your next big project?
Well I still want to make a spice rack in the kitchen but that's really small. I'm torn between the office and the craft room. What they called the third bedroom is just storage right now. I have a pottery wheel up there and a sewing machine and I want to turn that into my craft room. So it's between those two rooms, but then I also only have a love seat in my living room, and it's a great couch but it's just way too small for two people. So I'm toying with the idea of getting a larger, L shaped couch and maybe tearing down the wall between the hallway in the living room. I've seen it done in a few of the houses around me…
I guess it's like three big projects that I'm trying to decide between right now.
I also want to paint the outside of the house. Ideally I would just remove all of the facade but it would be really expensive, so for now I might just paint it a dark grey with white trim and possibly add shutters.

On a final note, why is it important for you to have a nice home with personal touches?
Well I'm in the design field so aesthetics make me happy and make me feel comfortable. I went to school for graphic design so my eye is very detail oriented. I like to see things that are spaced out evenly and arranged well, otherwise I won't be able to get my mind off of it.
You can rent this gem of a home through AirBnB by clicking here!
Note: All original photos used with permission of Listing Agent Kevin Wilkins.
Let us know if you'd like to be featured on our blog by emailing us at info@realestatewithheart.com!